*All opinions expressed in this post are my own. I was provided with an e-copy of the book for the purpose of this review, and was not financially compensated. This post also includes an affiliate link (Amazon Services LLC Associates Program) which means a commission may be credited to this site when a purchase is made through that link.
******************
As far as my mother is concerned, I'm one of the best story tellers she has ever met. Among her children, she says I'm the most animated and I suppose, most curious as well. Okay, maybe 'nosy' would be her exact word but you get the picture.
I didn't grow up in an outdoorsy or adventurous family. My idea of adventure really revolved around searching for hidden treasures around our house -- (Translate: sneaking into my parents' room to very carefully and systematically go through my mom's closet and eventually be able to open THE trunk). It's an antique army metal trunk which she inherited from my grandfather. I remember feeling the rush as soon as I open her closet door and see the olive green metal box in front of me.
One of the things I loved pulling out of that trunk was my mom's scrapbook. My mom was never the craftsy type. She was a busy working mother and couldn't be bothered with cutting and gluing to make things look nice. But she was organized and was able to do her best to document our major milestones. Leafing through her scrapbook, I remember seeing cut hair from our first haircut; our umbilical cord; or first tooth pulled out. I loved looking at bits of my life that I don't remember and have always admired my mom for being able to do all the documentation for three kids.
I have only one child and can hardly keep up with it. I have pictures and papers around my desk from five or so years ago, noting down something funny that my son said, or something remarkable he did, and I keep promising myself I will create a nice, fancy scrapbook that will put every Pinterest mom to shame....Yeah right!
In addition to my curiosity about my childhood, I'm sure my mom would agree if I said that I was the most curious about how she and my dad started out, as a couple and then as parents. I guess very early on I couldn't deny the hopeless romantic in me. The trouble is, every time I asked my parents for information, I was left feeling even thirstier for details than when I first asked.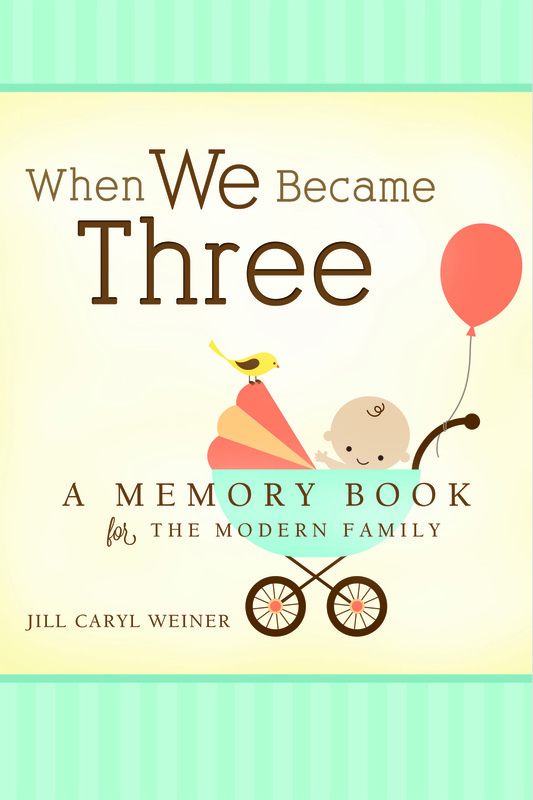 It's a family journal, and not just your typical 'baby book'. It's something I can get for myself to fill out for my now seven year-old child, as well as a thoughtful gift for either expecting or new parents.
There are so many things that impressed me about this cutting edge memory book, but I'd like to highlight my Top Three Reasons:
1. It's highly insightful. This book will not only require you to write down the same old facts that the usual baby book offers. Instead it's like having your personal novelist write the outline of your story for you and your partner to fill out the details to make it your own; details such as why you love being your child's parents, or what you wish you had done differently with regard to childbirth. There's a section on 'The Painful Truth' where parents can write about certain baby stages that scare them or were difficult for them to experience, as well as how they dealt with it. That truly resonated with me and kudos to Jill for having the wisdom to include such an important section.
2. It's refreshingly creative, truly one of a kind. This memory book captures the 'real' without being predictable or cookie cutter. Seriously, where else can you find a memory book that includes "Yoda" as a choice you can tick to complete the sentence, "Baby looks like...." But it's brilliant, isn't it? Or what about the page about Mom with an item that says, "Height in heels or flats", and "Hair color at the time"? It's simply adorable!
3. (And this is my top reason for falling in love with this book!)-- It includes BOTH parents, unlike other memory or baby books in the market that are solely baby-centric. This book feeds the romantic in me, in that it includes the love story of the parents, as well as sections that focus on the individuality of the parents before they even became 'Mom & Dad'. Emphasis was placed, not just on parenthood or couplehood, but also on the individual traits and experiences of each parent. Also unlike most memory books, this one also puts a spotlight on Dad. I really think that's an important element in a memory book, at least for families with a traditional role set-up (i.e. those with a 'mom' and 'dad').
Stories are meant to make you feel something. In reading this memory book, even with the details left blank, I found a truly endearing narrative, and I asked myself how it made me feel.
Sure, I felt nostalgic. That's a given with any memory book.
But beyond that, I felt grateful. Grateful for the good, the bad, the new normal reached as you become a parent, which Weiner successfully highlighted in this book. And as far as I'm concerned, anything that can pave the way for more gratitude in my life is a welcome experience. I assume this to be true for all jaded parents out there.
Hopefully, when I finish filling out my copy of this book, my son won't have to dig through a trunk or chest that I've hidden somewhere in the house. I can just give it to him and he will be on his way to a lovely adventure, with all the details he would ever need to discover who he is, who mom and dad were (or are), and most of all, how we became three.
*With the holidays coming, I can't think of a better, more meaningful gift for parents, new AND old. You can get your copy of When We Became Three by clicking on the image below.